"The roots of the word dystopia—dys- and -topia—are from the Ancient Greek for 'bad' and 'place,' and so we use the term to describe an unfavorable society in which to live. 'Dystopia' is not a synonym for 'post-apocalyptic'; it also is not a synonym for a bleak, or darkly imagined future. In a dystopian story, society itself is typically the antagonist; it is society that is actively working against the protagonist's aims and desires. This oppression frequently is enacted by a totalitarian or authoritarian government, resulting in the loss of civil liberties and untenable living conditions, caused by any number of circumstances..."
-John Joseph Adams, "Dystopian Fiction: An Introduction"
What dystopian tale will you read next?
"At their best, dystopias allow us—through the faculty of imagination—to see not only inhumanity, but the motives behind inhumanity. They allow us to understand, analyze, and warn the world of nightmares, deaths, grit, ideologies, and fundamentalisms. Through their own horrors, they might very well allow us to hold off the abyss for another generation or more."
Dystopian themes are present in popular music, particularly in progressive rock, alternative rock, hard rock, and heavy metal. The Alan Parsons Project, Kansas, Pink Floyd, and The Buggles are just some of the prog rock acts that have given attention to dystopian concepts in their lyrics. The Parsons album Eye in the Sky is an artistic masterpiece that never sounds outdated. Put it at the top of your list of top ten pop albums to have if you're marooned on a desert island.
Speaking of albums for a desert island, the Canadian progressive metal band, Rush, has released several albums with dystopian themes, including 2112 (1976), Grace Under Pressure (1984), and Clockwork Angels (2012). The entire Clockwork Angels album is one dystopian story in song; a novelization of the album's story by sci-fi author Kevin J. Anderson has also been released.
Enjoy some tracks from these great dystopian albums:
Trailers for nine of the best dystopian films ever made...
From left to right, top to bottom:
Planet of the Apes, Metropolis, The Book of Eli
Twelve Monkeys, Gattaca, The Road Warrior
The Road, I Am Legend, District 9
Ray Bradbury: Hopeful Dystopian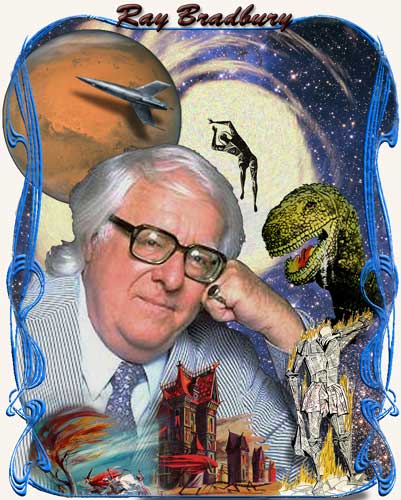 Quotes from two reviews of the new book
Ray Bradbury, by David Seed
"Bradbury recognised that tyranny is at its most potent when it's superficially most benevolent, when it dresses up coercion and censorship in kindly, caring language. A society that believes it paramount to keep its citizens safe, happy and comfortable for the greater good can not, and will not, tolerate dangerous words."
-Patrick West, "Bradbury: Between Dystopia and Hope"
"Often, in the Chronicles, Bradbury's Martians are childlike, but they are just as often waspish and bigoted. Reading the Chronicles requires four categories: Earth and Mars, Innocence and Corruption; there are decent men and bigoted men on both worlds; otherwise it would not be a tragedy, but a comic book."
"To most observers, T.S. Eliot among them, it has seemed far more probable that we are stumbling into a new Dark Age, inhumane, merciless, a totalist political domination in which the life of the spirit and the inquiring intellect will be denounced, harassed, and propagandized against: Orwell's Nineteen Eighty-Four, rather than Huxley's Brave New World of cloying sensuality."
-Russell Kirk, Redeeming the Time
"From time to time the belief spreads among men that it is possible to construct an ideal society. Then the call is sounded for all to gather and build it—the city of God on earth. Despite its attractiveness, this is a delirious ideal stamped with the madness of logic. The truth is that society is always unfinished, always in motion, and its key problems can never be solved by social engineering. Yet, man must conquer, again and again, the freedom to see this truth. In the intervals he succumbs to the dream of a mankind frozen and final in its planetary pride."
-Thomas Molnar, Utopia: The Perennial Heresy
"Dystopian novels—one thinks of Orwell's 1984 and Huxley's Brave New World—are valuable contributions to culture, in the sense that they "incarnate" in forms beyond the theoretical the dangers now latent and growing. A civilization that has lost its sense of history and the moral absolutes that are the foundation of any truly human society becomes vulnerable to political manipulation and secular messianism in a multitude of forms. The end result is the dehumanization and destruction of some portion of humanity, and the degradation of us all."